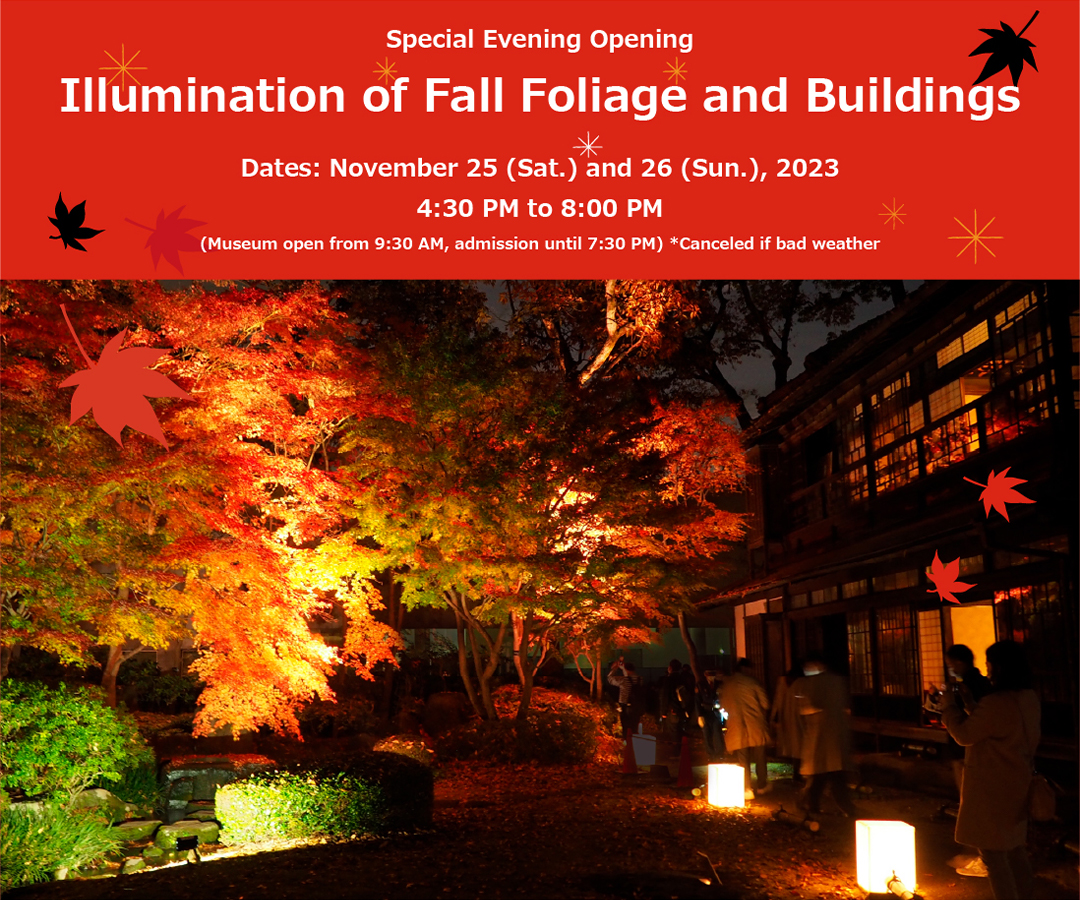 Edo-Tokyo Open Air Architectural Museum 30th Anniversary
Special Evening Opening: Illumination of Fall Foliage and Buildings
Dates: November 25 (Sat.) and 26 (Sun.), 2023
4:30 PM to 8:00 PM(Museum open from 9:30 AM, admission until 7:30 PM)
*Canceled if bad weather

Organizers: Tokyo Metropolitan Government,
Tokyo Metropolitan Foundation for History and Culture Edo-Tokyo Open Air Architectural Museum
The historic buildings, lit with a warm glow, and the autumn tree leaves are illuminated beautifully with soft lighting. Enjoy a unique nighttime ambiance with an evening stroll through the Open Air Architectural Museum.
Lighting of a hearth inside a house

4:30 PM to 7:20 PM
The floor hearth of the reconstructed Farmhouse of the Yoshino Family and Farmhouse of the Tsunashima Family will be lit on alternate days.

Warm up by the fireplace

4:30 PM to 7:20 PM
The fireplace of the reconstructed House of Georg de Lalande will be lit.

Check Out the Gas Lamp

4:30 PM to 8:00 PM
The restored gas lamps in the Tailor's Workshop in the East Zone will be specially lit during this period.

Warmth from the Public Bathhouse

4:30 PM to 8:00 PM
The bath of the reconstructed "Kodakara-yu" is filled with water, and the interior of the bathhouse is illuminated (Bathing not allowed)
Exhibition of old-time lighting

4:30 PM to 8:00 PM
Inside the reconstructed "Mantoku Inn," you can experience the brightness of the paper-framed lanterns. Kerosene lamps and other traditional lighting equipment are on exhibit as well.

Papercut Art with Architectural Patterns

November 25 (Sat.) (1) 3:00 PM - 4:30 PM (2) 5:00 PM - 6:30 PM(Feel free to leave after completing your artwork)
Craft papercut patterns inspired by the architectural designs in the museum and use it to make your own paper-framed lantern.
Instructor: Nabo Shimonaka (Sculptor, Traditional Papercutting and Traditional Festival Researcher)
Target Audience: 3rd grade or older (those who can use a cutter knife)
Capacity: 20 persons for each session (first-come basis)
Cost: Free of charge (separate museum admission fee)
Location: Farmhouse of the Yoshino Family

Candle Night

4:30 PM to 8:00 PM
Around a thousand candles will cast a fantastic light in East Square.

Food truck hours

3:00 PM to 8:00 PM
East Square and Shitamachi-naka Street will be lined with stores offering warm drinks and snacks.
[Request to visitors]
○Illumination with soft lighting. It will be very dark inside the museum, so please mind your step.
○In order to prevent overcrowding, photography other than quick snapshots is prohibited around the reconstructed buildings and exhibits. If you are using a tripod in an area with open surroundings, please pay sufficient attention to safety.
○The bringing of photographic equipment and tools such as large-sized flashbulbs and reflectors into the museum, as well as getting changed in the museum, is prohibited.
For those planning to visit the museum,we recommend buying online tickets (advance reservation for designated date).
You may need to wait to enter the museum at busy times.
Click here to reserve a ticket.
*Larger crowds are expected around sunset, so please consider visiting earlier.