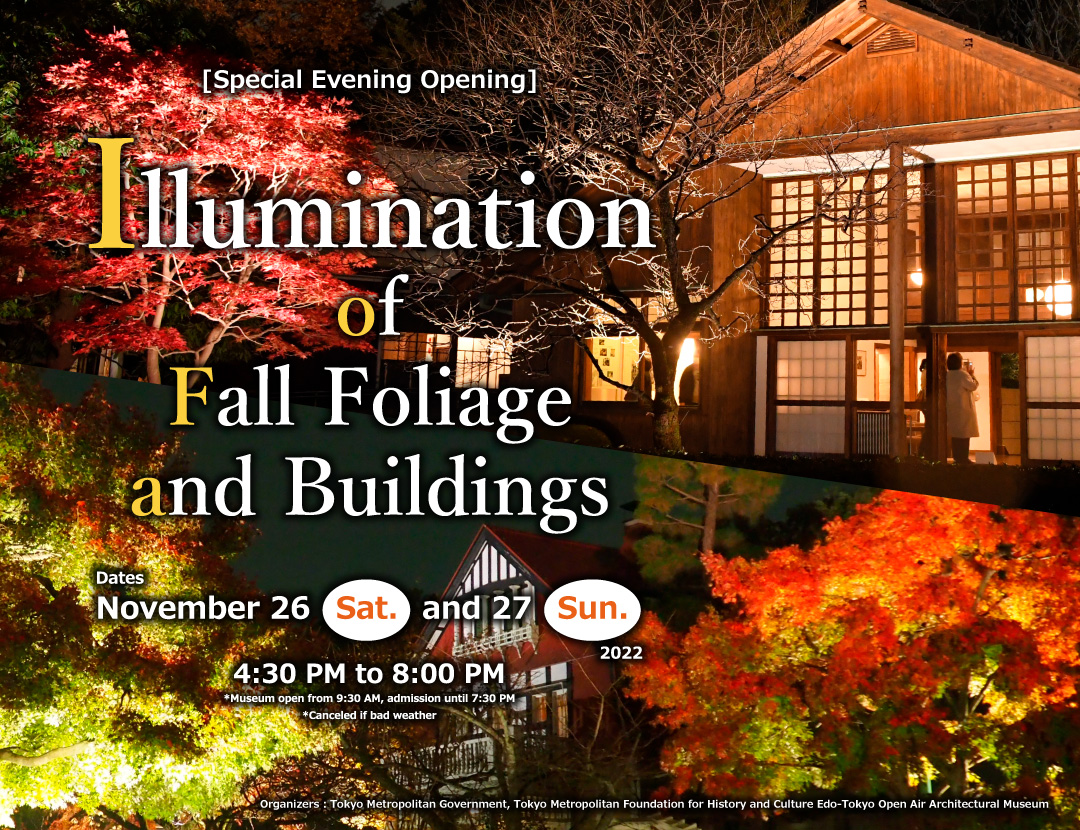 Special Evening Opening : Illumination of Fall Foliage and Buildings  Nov. 26(Sat.),27(Sun.) 4:30 PM to 8:00 PM
The historical buildings, with their lights lit, and the tree leaves just starting to change color, will be illuminated with soft lighting. As we get deeper into fall, a special two days for enjoying something a bit different than the museum during the day - Edo-Tokyo Open Air Architectural Museum at night.
Lighting of a hearth inside a house

4:30 PM to 7:20 PM
The floor hearth of the reconstructed Farmhouse of the Yoshino Family and Farmhouse of the Tsunashima Family will be lit on alternate days.

Warmth from a fireplace

4:30 PM to 7:20 PM
The fireplace of the reconstructed House of Georg de Lalande will be lit.

Lighting of gaslights at Tailor's Workshop

4:30 PM to 8:00 PM
The restored gas lamps in the Tailor's Workshop in the East Zone will be specially lit during this period.

Commemorative photo at the Photo Studio

4:30 PM to 8:00 PM
Take pictures with your own camera in the photo studio on the second floor of the restored Tokiwadai Photo Studio.
Exhibition of old-time lighting

4:30 PM to 8:00 PM
An exhibition of old-time lighting such as standing lanterns and oil lamps at the restored Mantoku Inn. Enjoy comparing their brightness.

Candle Night

4:30 PM to 8:00 PM
Around a thousand candles will cast a fantastic light in East Square.

Food truck hours

3:00 PM to 8:00 PM
East Square and Shitamachi-naka Street will be lined with stores offering warm drinks and snacks.
[Request to visitors]
○Illumination with soft lighting. It will be very dark inside the museum, so please mind your step.
○In order to prevent overcrowding, photography other than quick snapshots is prohibited around the reconstructed buildings and exhibits. If you are using a tripod in an area with open surroundings, please pay sufficient attention to safety.
○The bringing of photographic equipment and tools such as large-sized flashbulbs and reflectors into the museum, as well as getting changed in the museum, is prohibited.
For those planning to visit the museum, we recommend buying online tickets (advance reservation for designated date).
You may need to wait to enter the museum at busy times.
Click here to reserve a ticket.
*Larger crowds are expected around sunset, so please consider visiting earlier.
We request the understanding and cooperation of visitors in preventing the spread of COVID-19.
●Please refrain from visiting the museum if you have a fever above 37.5°C (99.5°F) or symptoms such as coughing, or sore throat.
●Please practice good etiquette by wearing a mask, avoiding coughing near others, and washing and disinfecting your hands.
●Temperatures will be taken at the entrance to the museum. Visitors who are found to have a fever of 37.5°C (99.5°F) or higher will be refused entry.
●Please join TOKYO'S COVID_19 NOTIFICATION & SUPPORT SERVICE.
In order for visitors to use the museum safely, the museum is opening with necessary measures in place as concerns preventing the spread of COVID-19. For more details, please check the information "For those planning to visit the museum (please be sure to read this)」" on the museum's website before making your way here.